Mississauga Rattlers Table Tennis Club
Hi Everyone,
Your registration form for the summer season is attached.
There is an early bird discount if you join before the end of May.
Dave Havard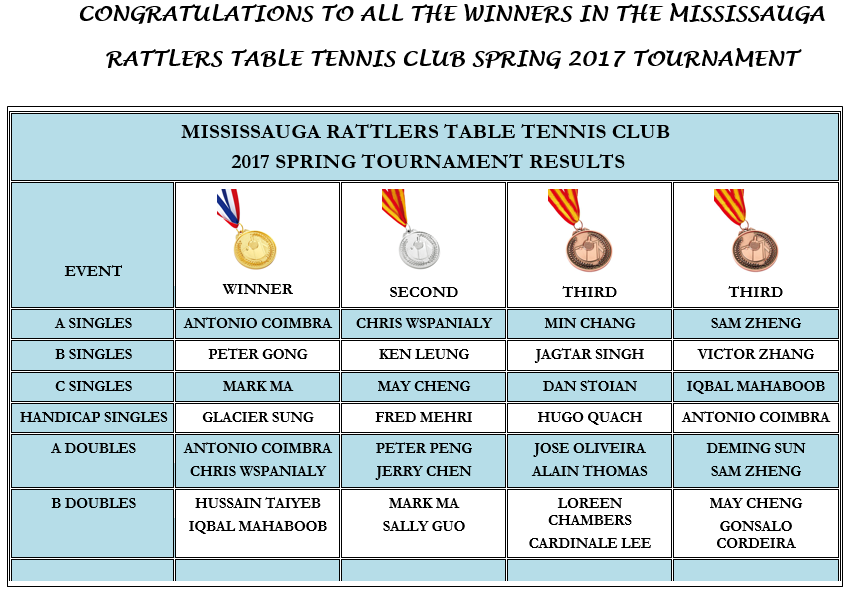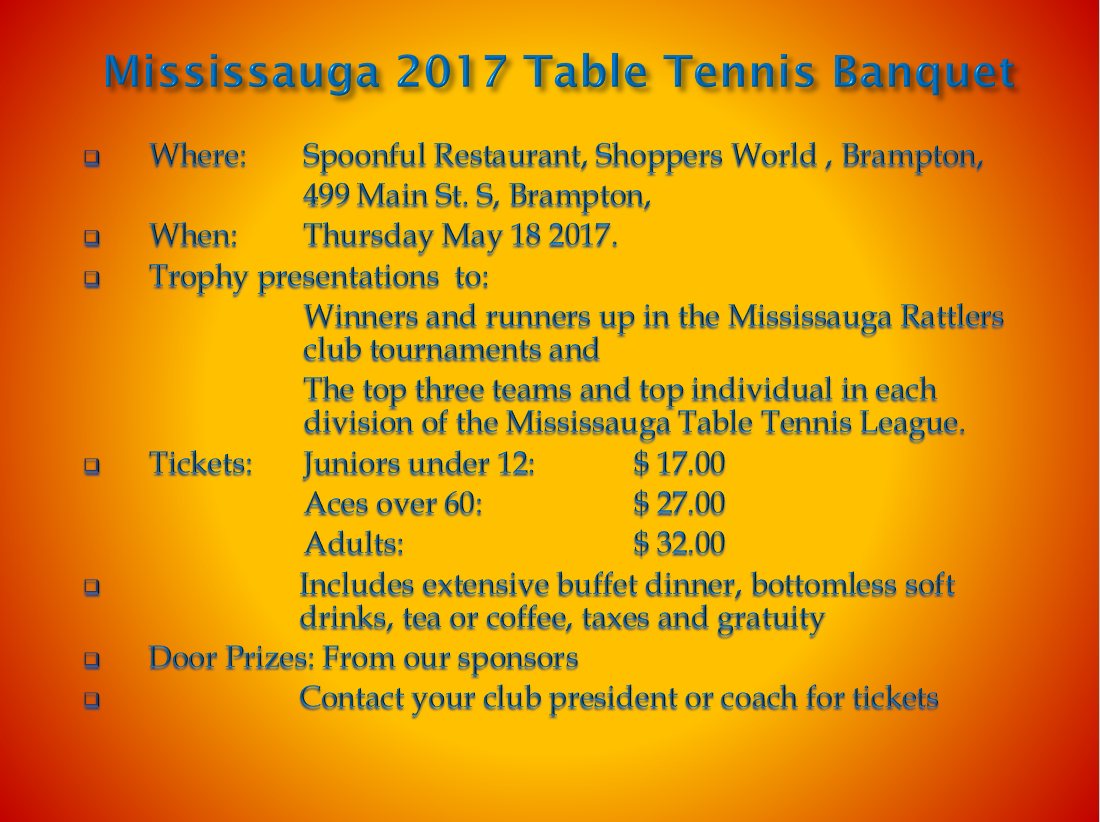 Easter Break and future events
The Woodlands School will be closed for table tennis on Friday April 14 and Monday April 17 for the school's Easter break.The Fallingbrook Church will be open as usual each Wednesday.
We will hold the Spring 2017 tournament for club members at the Woodlands School during the weeks of April 24 and May 1.
The club and league banquet will be held at the Spoonful Restaurant, Shoppers World Brampton, 499 Main St S, Brampton, ON, L6Y 1N7 on Thursday May 18. This will include the presentation of trophies to the winners and runners up in the Mississauga Rattlers club tournaments and the top three teams in each division of the Mississauga Table Tennis League.
The club will play at the Woodlands school until Friday May 26.
During June, July and August the club will open on Wednesdays only at the Fallingbrook Church.
David Havard
President
MISSISSAUGA RATTLERS TABLE TENNIS CLUB 2016-2017 WINTER SEASON
The Mississauga Rattlers Table Tennis club will be open for the winter season at The Woodlands Secondary School  on Erindale Station Road on Mondays and Fridays, and at the Mississauga Chinese Presbyterian Church on Fallingbrook Drive on Wednesdays from September 2016 to May 2017. (See "Locations" tab for directions.) Both venues will be open from 7:00 to 10:00 p.m. each evening.
With fourteen tables at the school and nine at the church, the club offers players considerable practice space. Our program includes, two internal tournaments, an opportunity to join teams in the Mississauga Table Tennis League, as well as an end of season banquet. Coaching may be arranged if there is sufficient interest.
The registration form and information about the club can be downloaded from the "Registration Forms" tab.
David Havard, President,
Mississauga Rattlers Table Tennis Club
Mississauga Table Tennis League
This e-mail address is being protected from spambots. You need JavaScript enabled to view it
Last Updated on Sunday, 14 May 2017 14:21